Vergani Carlo Snc is a company that deals with the procurement, processing of wood and the supply of timber on a national and international scale. We deal with the production of veneers, jointed and sliced wood, made with quality wood essences, in different thicknesses.
We use wood from certified European forests, but also American and Afro-Asian wood essences. From less valuable woods to the most sought-after exotic essences: from European white walnut to the charm of teak, a true point of reference for the nautical market.
We are based in Cesano Maderno, with administrative offices and a warehouse of 4600 square meters spread over five floors, where it is possible to find traditional woods and precious wood essences, in addition to the machinery for the operations of joining, butting and for cutting the veneer or veneer panels in the desired size
We are members of the "Verolegno" Consortium, which certifies the authenticity of our wood. Vero Legno guarantees consumers the authenticity of the products and the characteristics of the wood used to produce them. It helps to distinguish raw materials and artifacts made from quality wood from imitations.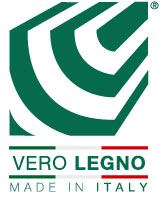 Vergani Carlo Snc is the exclusive importer for Italy and Switzerland of the Ecuadorian black palm. This particular species allows a precious wood essence to be obtained from the trunk of the plant, with characteristics of resistance and durability.
The palm is a variety of plant that does not grow in forests, but is a sustainable, fast-growing tree, mainly found in Latin America.
The wood is characterized by a mottled dark brown colour, with a very dense structure and the particularity of being hard and resistant. The palm slice is obtained from the external heartwood of the trunk.
With the "wood" of black palm, we produce multilayer flooring or made-to-measure parquet, as well as sawn palm wood, creating sections or boards, which can be used in the furniture industry.
The exclusivity of this wood and its high quality make it an attractive product for creating excellent furnishings.
In 1947 Carlo Vergani left his job and together with his brother Alfredo dedicated himself to the trade of veneers, founding F.lli Vergani Tranciati e Legnami. The purchases of important consignments in Italy and Europe begin and the development of the activity requires larger spaces, which lead to the construction of a new headquarters in via Manzoni.
In 1983, Mr. Alfredo died prematurely, and Carlo was joined by his young son Giovanni. In 1984 the company changed its name to Vergani Carlo & son Snc. Strengthened by the experience of the founder and the enthusiasm of the new generation, it starts again with a renewed enthusiasm towards new goals.
Vergani Carlo Snc is today a point of reference for large industries and craftsmen in the sector, operating in Italy and abroad, who want the maximum guarantee of quality of the materials purchased. Fifty years of activity, a name built with two generations of passion, seriousness, experience and professionalism.